Some more updates, the new rear slotted rotors [came with the car: pictured below]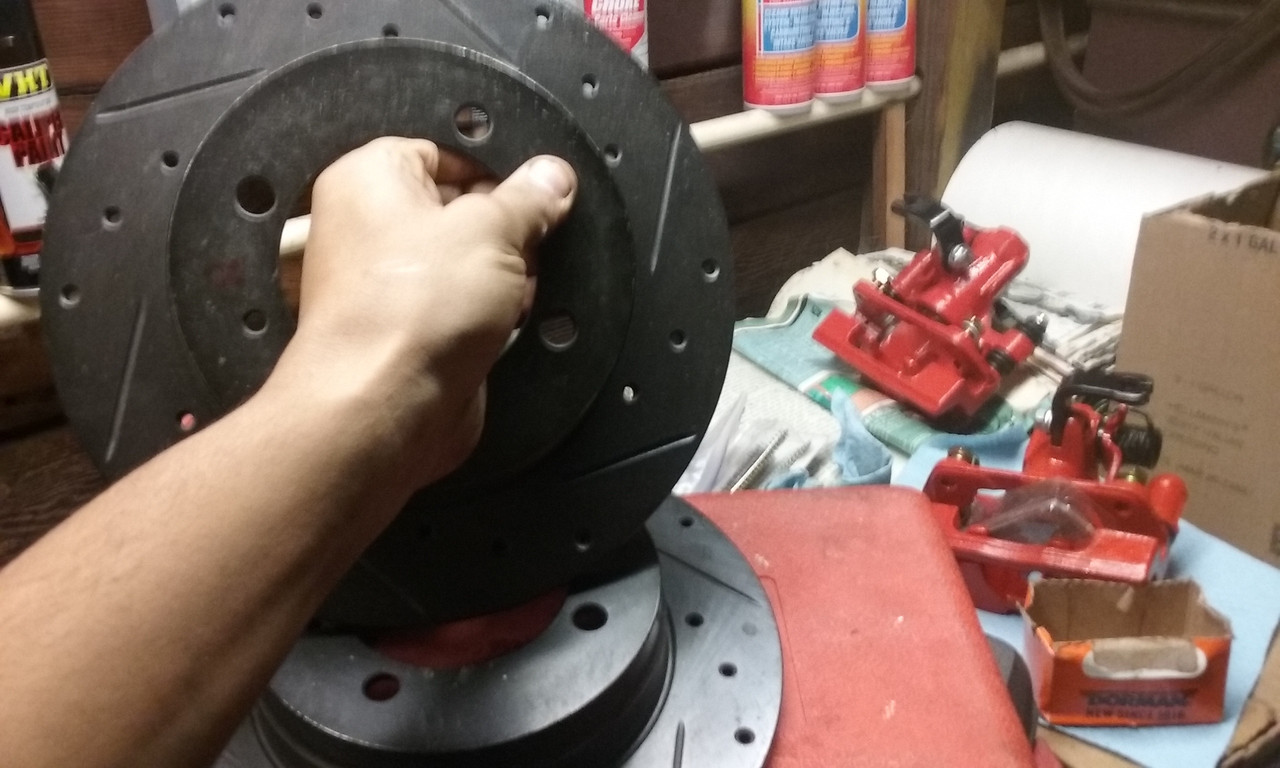 I painted the rear oem disc brake brackets... I really wanted to powder coat them, but my air compressor is woefully inadequate for this, so the next best thing is to apply rust proof primer, and high temp caliper paint.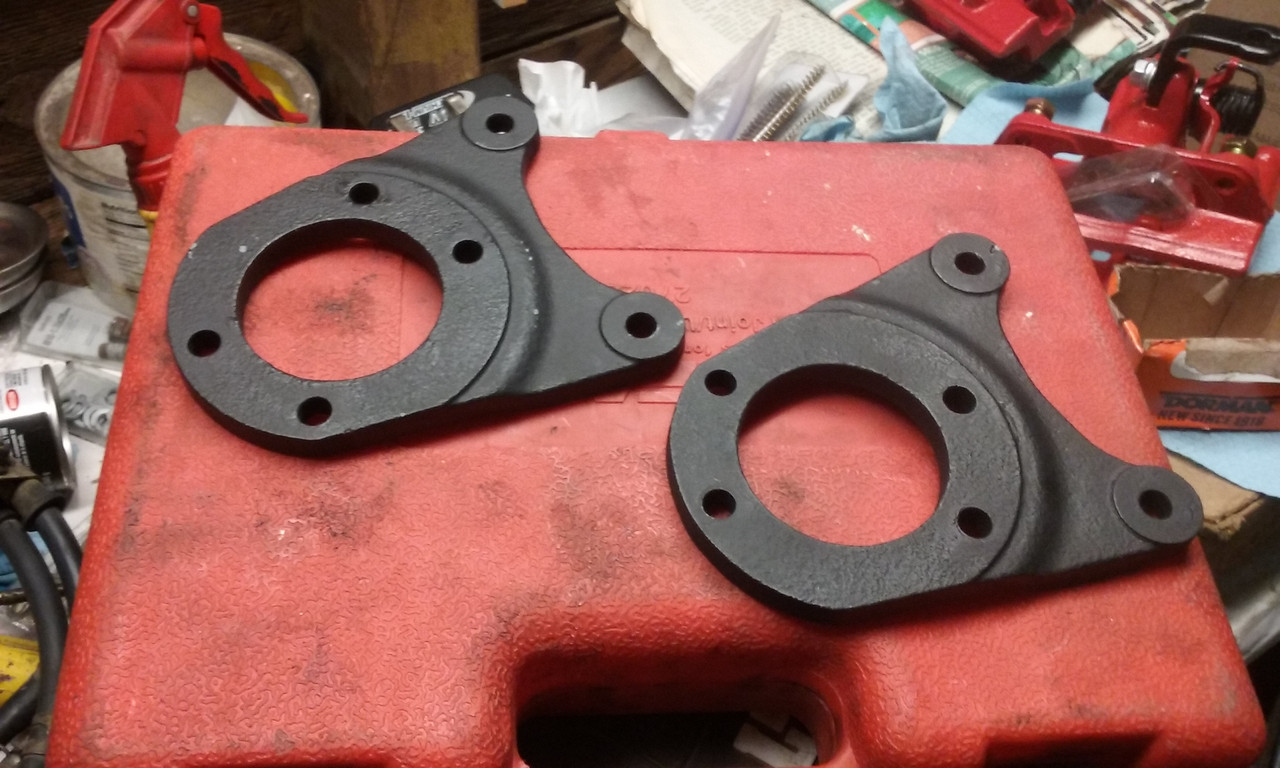 Because I was missing a few key ingredients for the "89 GT rear disc brake swap [thankfully they are not GT only rare parts], so I went to the local pick n pull wrecking yard for some parts.
I got lucky and found a 1g "90-"94 fwd dsm in a yard, and I pulled the parts I needed.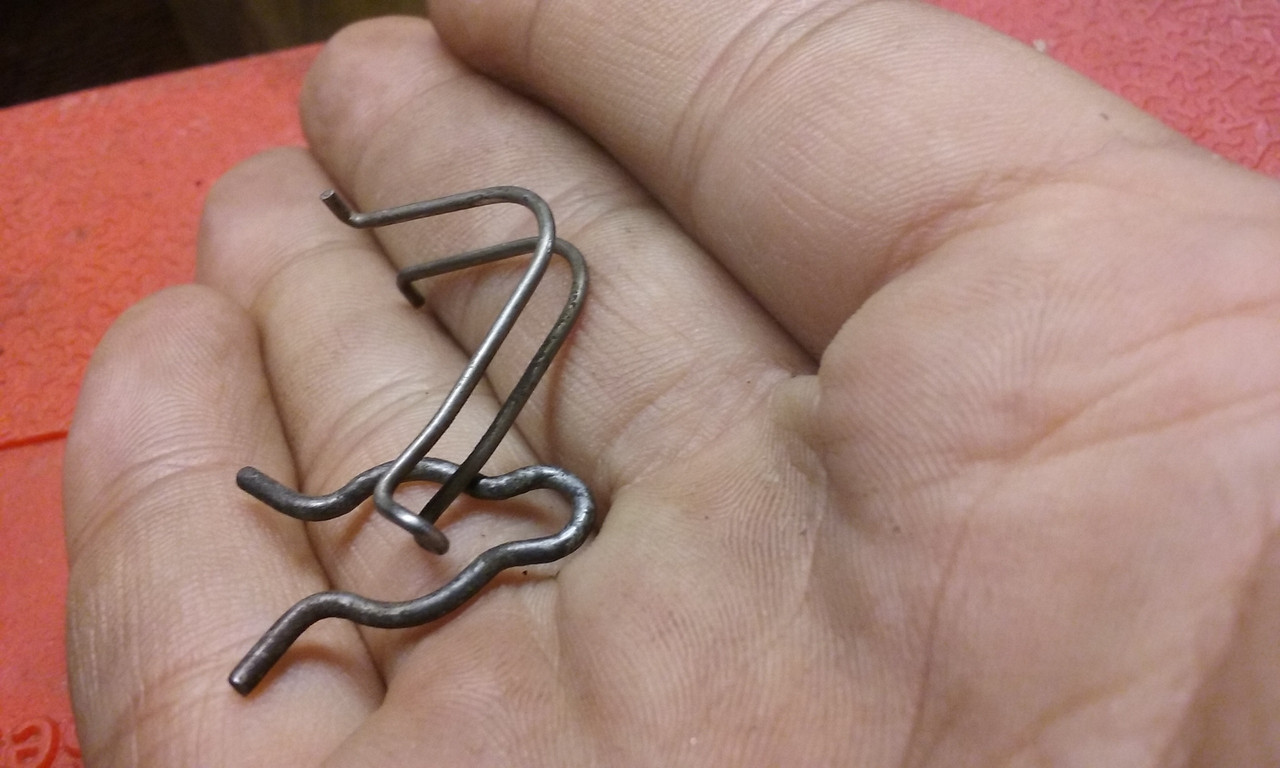 you need 2 of each of these little clips for both e brake cables, I know it's obvious, and should go without saying, but they are vary easy to loose or overlook, especially when pulling them off at the wrecking yards [the upper one in my hand in the picture above, is the e brake swing arm retaining clip, and the lower one in the pic above is the retaining clip for the e-brake cable bracket, you likely wont get new clips with a set of after-market e brake cables [or the calipers... or at least mine didn't
] P/S also make sure you get the, L shaped E brake cable mounting bracket [bolted on to the caliper by 1 14mm bolt], and don't forget you will need the hydraulic banjo bolt and fitting for the rear calipers, because that also didn't come with my rebuilt calipers ether, however new crush washers did
.
I also sourced a decent set of e-brake cables.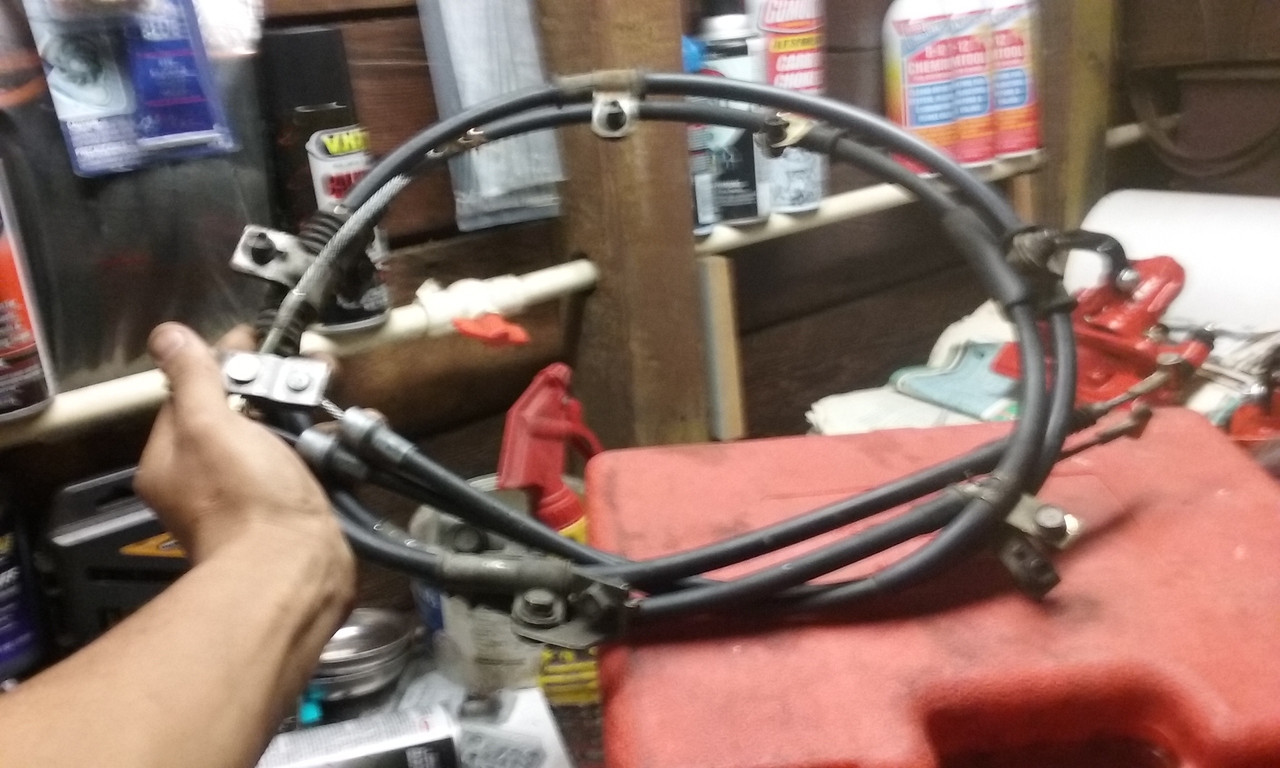 I also pulled the inside e brake adjuster cable that gets attached to the parking brake handle, I hope this all works out, I have heard that they work good for fellow members so should be okay.
I decided to tear down my expo knuckles, and get them ready for a rebuild...and yes I did it without a press, "would I do it again" HECK NO!
but i have proved that with enough tools, and a family or friends you can get it all apart.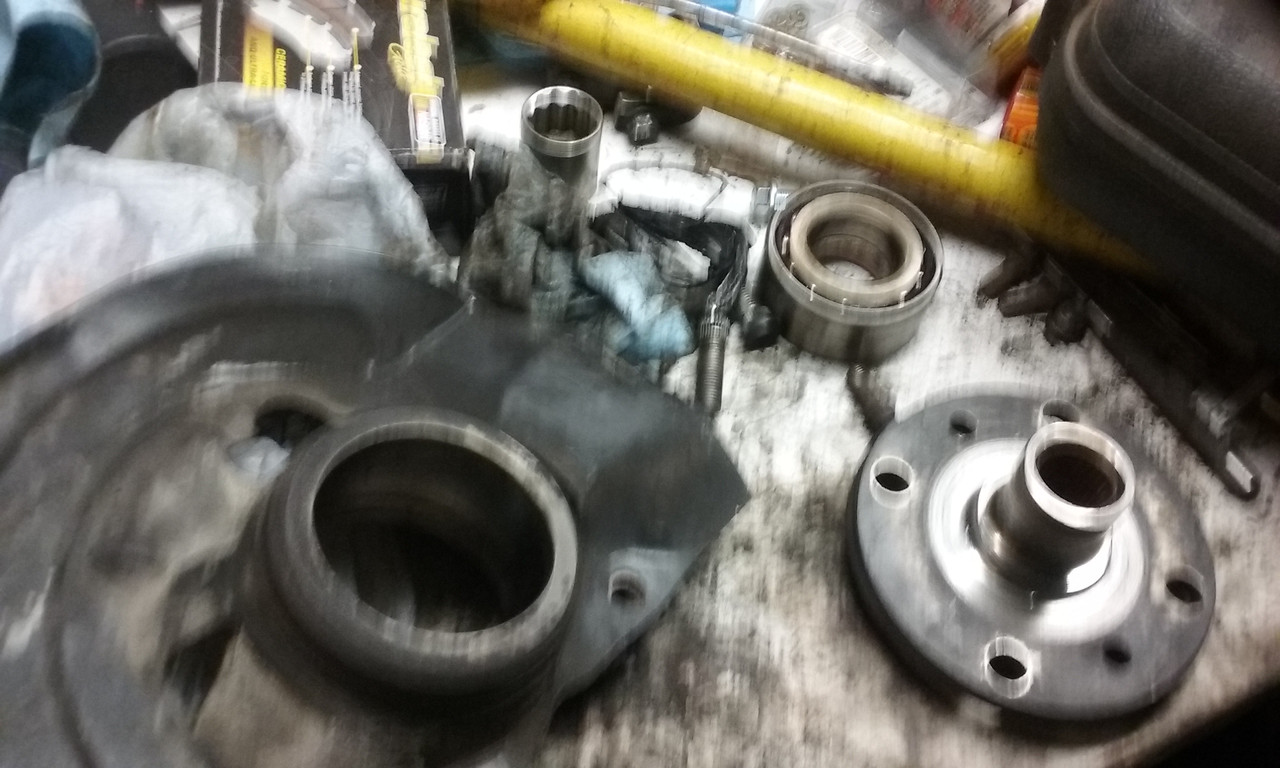 I used a ball joint c clamp, and a bunch of improvised jigs to press the hub out, and to remove the race thats on the hub I used a gear separator and a lot of wd40 was used to make it go easier... yeah I think I'm going to have to buy a mini harbor fright press, I have enough of these expo hubs to warrant purchasing the proper tool for the job.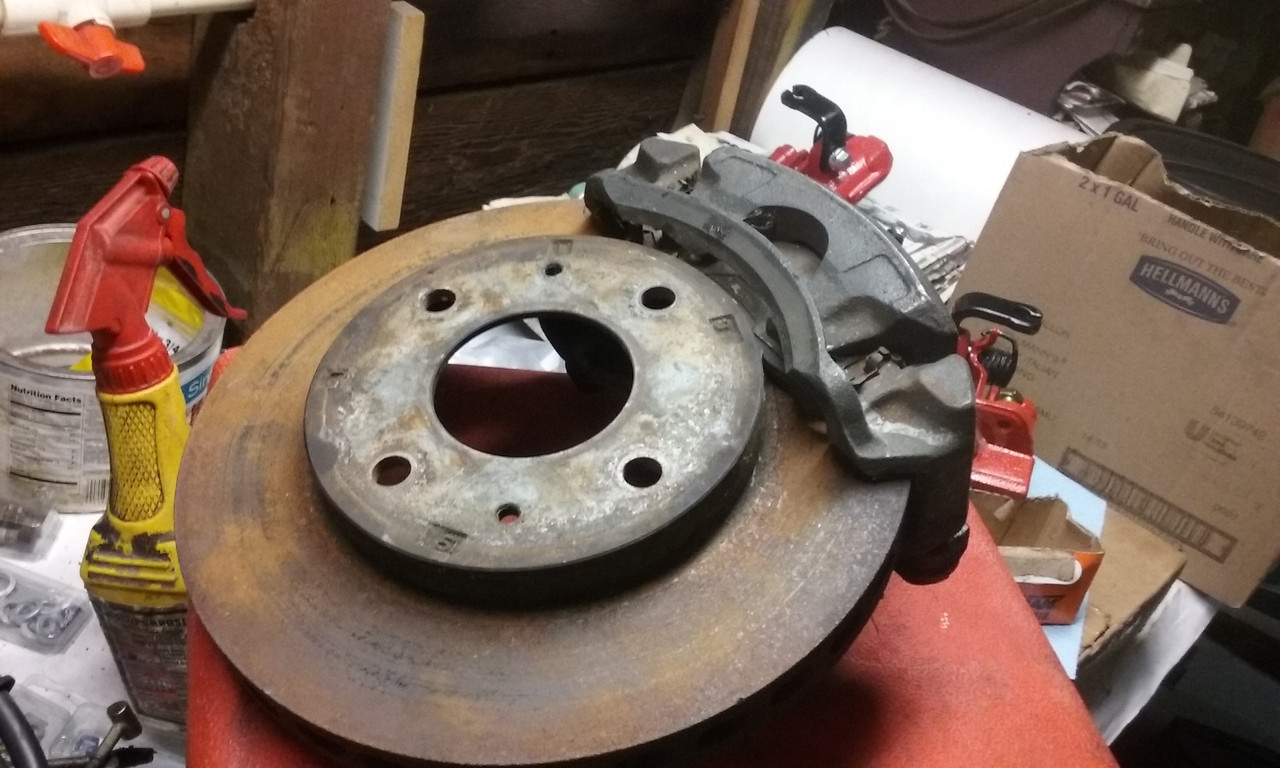 Notice: The expo rotors are vented, I think I'll put them to use on my other csm, before swapping in the twin pot setup [which I can't install just yet, because I need to source another set of lancer OZ rims, in order to clear the 2 piston calipers] I love the ride quality of the OZ rims over the stock 13inch pizza cutter rims.
I ordered a set of 1g awd dsm agx adjustable rear struts, and I intend to install them during the rear disc swap.
More updates soon.