Spring is here! So its back to work.
When I got the car, NO gauges worked. I now have Tach, Fuel level, Volts, Water temp, and oil pressure. The Speedo is a lost cause for now for several reasons. Also eliminated some plugs and loose ends from the OE harness I was not using-still needs a LOT of cleaning up wiring wise, but admittedly that's not my forte. Installed an AEM WB I had laying around-temporarily lassoed it to the boost gauge until I build a panel to move them down to the HVAC area.
I also wanted to tackle the exhaust. I had Idea from twin 3inch electric cut outs inch dumps to a single quiet 2.5, to IMSA style rear fender exits. But, I wanted to use as much of what I had as possible, but still be efficient for my long term goals, and keep it in the budget. Well, out came this.
Twin 3's into a full 4 inch flop a dop pipe.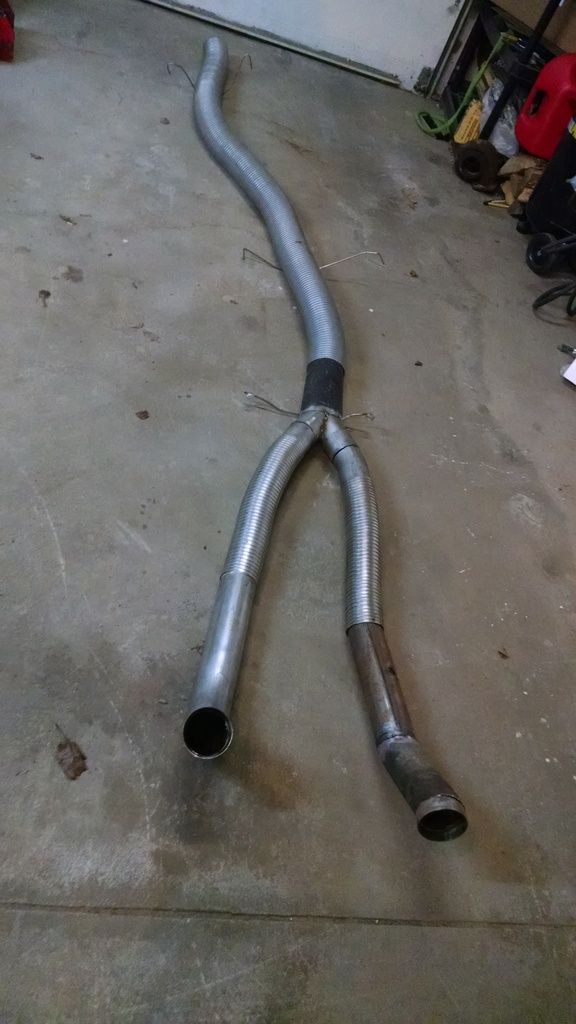 (Mock up)
Total cost- $28. It fits ridiculously well, and the flex hose is not nearly as flexible as you may think, so it worked out absolutely perfect.
What I love about it,
1)Its 80% scrap-Only thing I purchase was the 4inch flex pipe, and a 4inch band clamp, and gas for the welder.
2) love the way it fits-nice and tight-
3) I can be off the car in 5 Minutes or less. I love having easy access to troubleshoot parts or quick fixes at the track. This will also allow me to take it off in segments on the dyno to see if its a restriction when I turn up the Jam.
Hopefully it sounds as good as other 4 inch systems I have done. Kind of an empty trashcan aggressive situation that would be augmented by the cam that's yet to go into the car.
Next-275 Micky T's for the 17s, tint, and good weather!